For Sale and Want Ads
(last update 4/14/2023)
to post an ad, contact info@penguinclass.com
Penguin Wanted in Michigan
Seeking Penguin with decent trailer. Boat needing some cosmetic work is OK. Major renovations are sadly beyond my skill level. Glass or wooden Penguin works for me. Plan to use for day sailing, but might want to try out the racing scene. Located in southeast Michigan. Willing to travel if within a few hundred miles or meet halfway. Please contact Phil at baytripper7180@gmail.com (posted 4/14/2023)
Penguin 7444
<![if !vml]>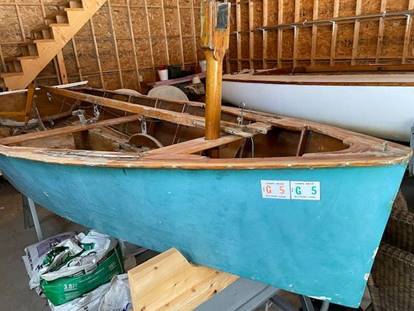 <![endif]>
<![if !vml]>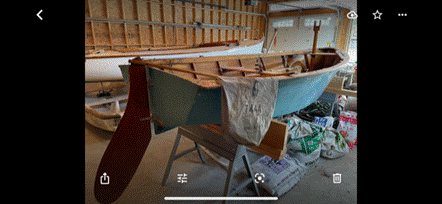 <![endif]>
located in West Dover, VT. The boat needs a fresh coat of exterior paint and revarnishing of the interior. The asking price is $275.
Allan Goldberg
<allanrgoldberg@gmail.com>
802-464-8236
Penguin Wanted:
Please contact Bernie Wideman,
Massachusetts bernard.19@comcast.net (9/28/20)
Penguin Wanted
Penguin sailboat in Ohio vicinity. My father built a Penguin in our living room when I was a child in the late 60's.We raced it for a number of years and unfortunately it fell in to disrepair and was junked after he died in 1996. I am interested in purchasing one and getting back on the water. I live in Minnesota but have access to a nearby lake in Wisconsin.
Contact Scott Sherden sherden113@gmail.com (1/28/2020)
Customflex Penguin -1971 Penguin plus trailer (including mast boom sail, cover, and parts) for restoration or for parts to help complete another boat. $400.
Boat is located near Columbus, OH
Contact: Brad Keely email address btkeely2@gmail.com 10/20/17
Penguins available for sail. The Penguin Class has Class owned boats that are available to sailors in the Chesapeake region who are interested in sailing them in local Penguin events. For more information contact info@penguinclass.com
Looking for Penguin 1947:
I am seeking the whereabouts of Penguin 1947.
This boat was built by my father and mother (Thomas and Mary Anderson)
in their basement/garage in Richmond, Virginia and sailed predominantly
from the Fishing Bay Yacht club, near Deltaville.
My mother gave it away after my dad died and I would like to find it and
see if the current owner might be willing to sell it to me.
I had many happy hours growing up with it and would like to share the
experience with my grandchildren.

Thomas W Anderson, Jr.
770 Glengary Rd.
Winchester, VA 22603
540-888-3173
Penguin # 6992, built in 1962: Beautiful mahogany hull fully restored Penguin sailboat and new trailer
Excellent condition $900 La Plata, MD
# 7439. Built in Philadelphia by John Wright, Jr, 1960's. Interior finished bright. Original sail. Wooden mast and boom in good shape. Hull painted navy blue with Interlux paint. $800.00 for boat or $1050.00 with trailer.
Located in Gobles, MI (269) 650-1595 or (269) 673-4458 dmgreen.home@gmail.com 11/15/2016
<![if !vml]>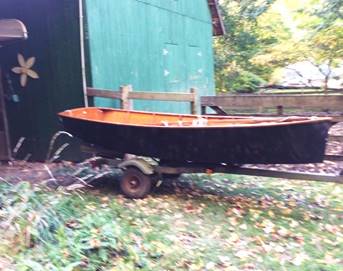 <![endif]> <![if !vml]>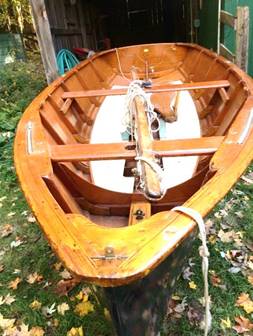 <![endif]>
<![if !vml]>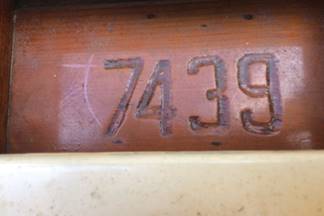 <![endif]> <![if !vml]>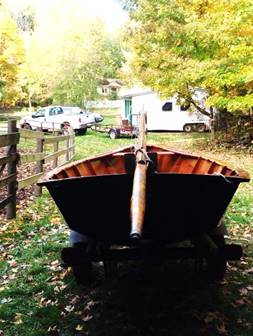 <![endif]>
Wanted: I am searching for a Penguin rudder. Mine split in half. Also looking for wooden spars for the sail. Any information would be amazing!
Thank you! Cory "Cory Bixler" <corybixler575@gmail.com>
Greenwich, CT 06830 203-862-9696 shop (7/25/2016)
Penguin #4474 with papers. She is in need of work, but has plenty of extras including all hardware to hang on a garage ceiling. The hull needs to be wooded down and repainted. I have a good Dacron sail, plus brackets for holding mast and boom while trailing. I do not have a trailer any more.
I am asking $450. The boat has a small crack in the keel which needs fixing before she is completely water tight. http://raleigh.craigslist.org/boa/5658193338.html
Thank you.
Cole Van De Water, Hillsborough, NC
<![if !vml]>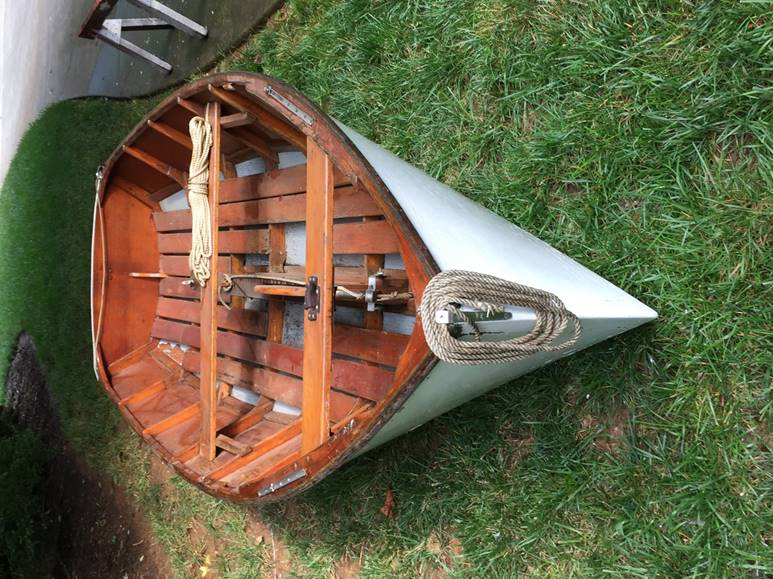 <![endif]>
Penguin 7936 Location: Mechanicsburg PA Austin hull completely overhauled. New Aluminum mast and older wooden mast. Two sails. Rerigged with Harken blacks and new bailers. Finished bright inside and painted with Interlux Perfection outside. No trailer. Price:$1000 Contact: Bill Parkes 717-731-1039 parkes1@comcast.net
Penguin #6945 Built by Harry Horner. Price- $800
Description: Wooden penguin in decent shape. Stored inside for the past 4 years.
Equipment: Main sail, aluminum mast – Proctor alpha section, 2 rudders, trailer, rig and all hardware, top and bottom cover.
contact: Will Comerford text: ☎ (443) 926-1982
reply by email: hpnnt-5481469832@sale.craigslist.org 3/29/16

My early 1960's wood penguin needs rescue, have orig docs and sail plan, yearbooks from Skokie Lagoon Chicago area. Needs sail, some wood needs repair. Please refer to anyone who is interested, free or make modest offer. Hull # not handy now but it's pretty low. Contact: r.j.holpuch@att.net 9/21/15

5524 (possibly). Comes with an old trailer that looks like it was slightly modified to carry this particular boat. Trailer is highway ready with working lights and decent tires.
One of the turnbuckles and the oars are contemporary. Some carabiners were used to attach the sheet but other than that, it looks like nearly all of the fittings are original, patina'd brass.
There is some minor leaking from somewhere, probably the pivoting centerboard casing.
At some point somebody used everyday latex paint on the bottom (blue in the photos) which did not fully seal the boat.
Boat is 100% sail-able and towable as is.

Boat is currently garaged in Marquette, MI.
Asking price is $1000.
Scott
frood13@yahoo.com
<![if !vml]>
<![endif]>

Penguin parts:
Mainsail, wooden Mast & Boom with stays and hardware. (finish, intact)
Floor Boards (4 pieces), shaped to boat. (wood, solid, but could use refinish)
Rudder (Blade is intact –tiller from hinge forward broken. Pintles and gudgeons, intact.
Centerboard (lowering handle broke off 4-5 inches down on board, rest of board weathered)
Small anchor that fits to inside of hull. (Danforth style)
Located in Barkhamsted, CT $100.00 for all the gear (buyer must pick up)
Greg Cantwell
cantwellgreg@yahoo.com 860-965-0456 (6/8/15_
1963 Penguin Class Boat #6854 for $900
<![if !supportLists]>· <![endif]>
<![if !supportLists]>· <![endif]><![if !vml]>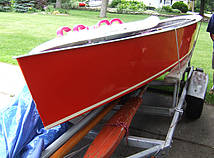 <![endif]>
Specifications:
built in 1963, Manufacturer: Customflex this Penguin is in remarkable condition. Mast, Boom, Boom Crutch, Centerboard, Rudder, Tiller, Tiller Extension, Sail with 4 Stays, Sailbag, Oars, Custom Cover
Int'l. Penguin Class Handbook, Wooden Hand Dolly, Oars, rudder, tiller, and spar are wood and original to the Penguin
Boat is sold as is and contains no warranty If interested, call Trudy at the Door County Maritime Museum between 9 am - 5 pm, (920)743-5958.
Trudy Herbst,, Development Director
Door County Maritime Museum & Lighthouse Preservation Inc.
120 N Madison Ave
Sturgeon Bay WI 54235

Penguin 9275 Self-rescue design wooden Penguin. 3 Sails, 1 New (2 regattas), New aluminum Mast, new rigging, sheets, side stay tracks, blades in good shape.
On a Trailer, good for yard use. $750.
Oakville, ON L6J 6Z7, Canada
Photos and more info available at:
http://ontario.kijiji.ca/c-cars-vehicles-boats-watercraft-sailboats-Penguin-Sailboat-for-sail-W0QQAdIdZ521598506
ikpaisley@gmail.com 10/22/13

Penguin class sailboat. Length 11'6", beam 5". Cat rigged dinghy-type centerboard sailboat. Fiberglass hull, Aluminum mast, wooden boom, all rigging intact. Sailable as is. New paint and new floor board would be good. Trailer has some rust but is in good condition with new wheels, tires and bearings. Great day sailer $600. The manufacturer was Roberts Industries of Stratford, Connecticut. The sail (hull?) number is 7409.
John Bittner
Olney, Maryland
craigslist 4006863978 [snjkb-4006863978@sale.craigslist.org]
1975 fiberglass Penguin, custom-made by John Morgan (Morgan Yachts). It was purchased and has been kept in Knoxville.Comes with full rigging (all in good condition), one set of oars, one set of paddles. One sail in good condition.Asking price: $1,200. Does not come with trailer but we can also deliver to your house/dock if you live within a reasonable distance. Please email schonagen@mac.com with questions and thanks for looking at the boat!
Penguin (built ~ 1968) located in Santa Ynez, CA classic wood Penguin Class sailboat with sail and rigging. Oars. Trailer is shot so you will need your own trailer which is why my price is low.$250 Sam Burke
samburke@verizon.net 7/1/13
Nice Horner penguin #9166,. Med blue hull with new off-white bottom. in very good shape other than some varnish touch up needed. two newish measured sails, mast up canvas cover, trailer. Located in northcentral PA, above Williamsport, small town of Wellsboro, Pa. asking $600. currently stored in warehouse here. Please contact Kent Knisley 570/439-0798 kentk32@gmail.com (5/13/13)
9744 Innovator Fiberglass Penguin – Self rescuing design. With trailer. $850.
Contact Gary Foster garyf49@gmail.com 4/10/13
9749 We've sailed the boat one time since I bought it at the Chesapeake Bay Maritime Museum auction on August 30, 2008. The boat and trailer have been stored indoors the entire time. This boat, Tuxedo Junction, No. 9749 was built by Jerry Mullins, Norfolk, VA and measured and certified in 2003. The boat was built in strict accordance with I.P.C.D.A. specifications.
I would like to sell the boat and trailer for $3,500.00. This is what I paid for it at the auction. If you know of anyone interested in a very lightly used Penguin, please have them contact me.
Thank you for your consideration
Gary D. Curl
1687 Glebe Road
Earleville, MD 21919
Mobile: 973-493-9375
E-mail: gcurl@spcresearch.com
1962 restored Penguin sailboat (Navarre, OH) $1700 (#7151)
Beautiful 1962 wooden boat. Penguin class. Length 11`5``, beam 4`8``, sail area 72 sq. ft. Comes with trailer. $1,700.00. Cash only. Call for appointment to see. 330-309-0861.
Builders Plate states : John Wright, Jr Boatbuilders Philadelphia, PA
Sail - Merill Sails 4 - '63 Delanco, N.J. Boat is in pristine condition. Professionally restored. Always stored inside. Interior is finished bright. Topsides are white. Dark blue boot top. Light blue bottom. Galvanized trailer in like new condition. Sail is like new. In Wellington, Ohio. (updated 7/5/13)
Plans built Penguin on trailer. Built by my father and completed in 1962. Mahogany ribs & transom and oak floorboards. Custom laminated walnut and oak tiller. Wooden mast & boom with Cox sail in good condition. Sail number 6218. Boat is located in California. $1,000 OBO. Pictures and information available from Jim Thomas at mypa12@yahoo.com. (8/9/10)

SOLD