2021 Penguin Internationals
September 18 & 19, 2021
Corsica River Yacht Club, Centreville, MD
Bill Lawson and Colette Preis topped a competitive fleet of 10 Penguins for the 80th Penguin Class Championship. The Corsica River Yacht Club hosted the event from their facility at Ship Point, near Centreville, MD.  Light winds Saturday delayed the start, but PRO John Foster sent us out as a light breeze started to fill in. With a westerly wind direction, the course was set up in the Corsica River, which proved to be key for the day, as the wind held long enough for three windward leeward two lap races.  Elsewhere on the Bay, other events were cancelled or abandoned for lack of wind. Bill Lawson, sailing with his wife, Colette Preis, got off to a quick start, leading from start to finish in the first two races. Jonathan Bartlett, sailing with his daughter Annie, had a pair of deuces, dropping to 4th in race 2. The challenge for the day was deciding to go for the shore to avoid the incoming tide, or look for pressure or wind shifts,  which sometimes favored the middle, but not consistently.  Looking for and staying in pressure was key, as holes often made what seemed like a brilliant tactical move towards a favorable shift, evaporate as the wind filled in elsewhere.  At the end of Saturdays racing, the Lawsons had 5 points, Charlie and Cairn Krafft 6, Jonathan and Annie Bartlett 8, RJ Bay, sailing in his third Penguin regatta, 11, and Scotty Allan sailing with his daughter Brooke, 15. A weak cold front came through Saturday evening, so forecast called for wind from the north at 5 to 10.  Given the cross river (Corsica) wind direction, we headed out to the Chester River.  The nearly full moon meant stronger tides, and the wind was more at the lower end of the expected range.  In race 4, while the leaders headed towards the right side, looking to stay out of the current, RJ Bay saw a wind line to the left and eventually got to the 30 degree wind shift with pressure and finished well ahead of the rest of the fleet.  Scotty Allan, rounding the leeward mark behind the leaders, spotted this and moved into second.  Bill Lawson realized the right wasn't working and salvaged a third.  Jeff Cox, sailing with his daughter Ellie, had a regatta best 4th. RJ Bay also took race 5, nosing out the Krafft's at the finish line.  For race 6, the current was (almost) slack and going right on the somewhat shorter windward leg (shortened and shifted left after race 4), turned out not to be the best move.  Jonathan Bartlett lead the pack on the left and worked ahead of RJ Bay on the run to take the gun, with Bill Lawson sealing the regatta victory with a 2nd.  RJ Bay capped off an incredible day with 1,1,3 finishes to move into 2nd overall.  Scotty Allan posted a 2,3,6, on Sunday to stay in 5th.  Sandy McAllister, sailing with Ian Cox, took a regatta best 4th in the final race to finish 6th overall.  The point spread from 6th to 9th was two points, with Scott Leppert, sailing his dad's (Skip Moorhouse) boat with his son Elliott, finishing in 7th and taking the Len Penso Classic Boat trophy for the top classic boat.  Now we just need to find the trophy. In 9th was the female team of Devon Feusahrens sailing with last minute stand-in crew of Donna McKenzie.  And rounding out the top ten was Ned Foster, sailing the newly restored Penguin 666, which his father, John – also the PRO – spent the winter rebuilding with the assistance of Art Silcox.  Unfortunately, a leak near the transom sent Ned promptly back to shore on Saturday, so we don't have photos to share of the gorgeous and complete restoration job that John and Art did. 
A Penguin first, Cairn Krafft registered the event with Sailors for the Sea as a bronze level clean regatta. Recycling, glassware and ceramic mugs for beverages, SS silverware, compost buckets, and minimized use of disposable water bottles (which is tough for Corsica since the well water has a distinct sulfur taste and odor) were clean regatta practices that were followed. Simplifying recycling categories, e.g. glass and plastics but no mixed paper made post event sorting easier as competitors are often confused about what is and isn't recyclable, which varies widely by locality.
Kudos to the Corsica River Yacht Club for running a first-rate regatta, providing lunches both days for the competitors, and a club-sponsored cook-out Saturday after the racing.  A parent of one of the competitors commented, we should do this here every year.
Results
| | | | | | | | | | |
| --- | --- | --- | --- | --- | --- | --- | --- | --- | --- |
| Boat/Sail | Skipper | Crew | 1 | 2 | 3 | 4 | 5 | 6 | Total |
| 9677 | Bill Lawson | Colette Preis | 1 | 1 | 3 | 3 | (4) | 2 | 10 |
| 9669/9675 | RJ Bay | - | 4 | 3 | (4) | 1 | 1 | 3 | 12 |
| 9694 | Charles Krafft | Cairn Krafft | 3 | 2 | 1 | (8) | 2 | 5 | 13 |
| 9660 | Jonathan Bartlett | Annie Bartlett | 2 | 4 | 2 | (5) | 5 | 1 | 14 |
| 9700 | Scotty Allan | Brook Allan | 5 | 5 | 5 | 2 | 3 | (6) | 20 |
| 9632 | Sandy McAllister | Ian Cox | (9) | 8 | 7 | 7 | 8 | 4 | 34 |
| 7707 | Scott Leppert | Elliot Leppert | 8 | 7 | 6 | (11) | 7 | 7 | 35 |
| 9730/9572 | Jeff Cox | Ellie Cox | 6 | 11 | (11) | 4 | 6 | 8 | 35 |
| 9575 | Devon Feusahrens | Donna McKenzie | 7 | 6 | 8 | 6 | 9 | (9) | 36 |
| 666 | Ned Foster | - | (11) | 11 | 11 | 9 | 10 | 10 | 51 |
<![if !vml]>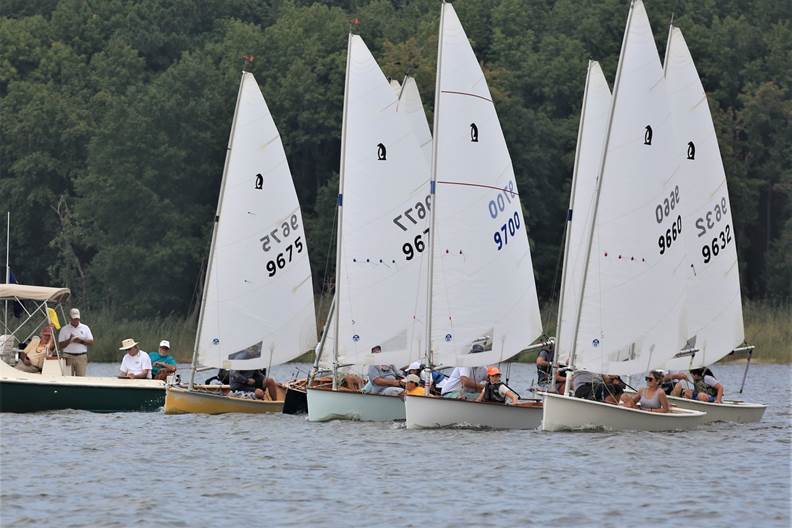 <![endif]>
A raft of Penguins (apparently when ashore, they would be a waddle).  Photos by Will Keyworth
More photos available at https://willkeyworth.smugmug.com/Regattas/2021-Events/Penguin-Nationals-9-81-2021-EDITS/
<![if !vml]>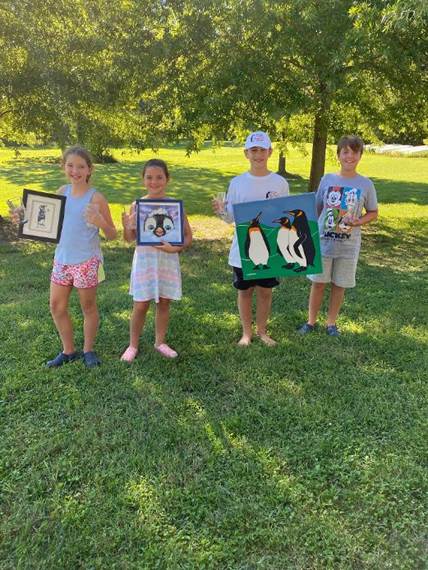 <![endif]>
Junior crew with their awards.  Photo by Cairn Krafft
<![if !vml]>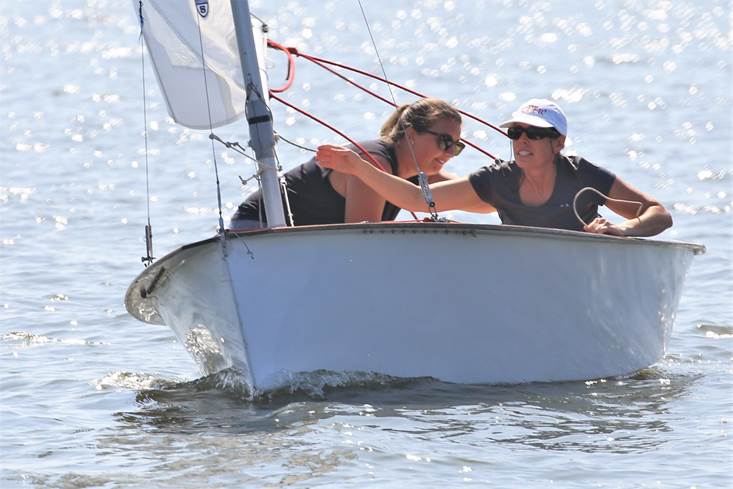 <![endif]>
Top Female team of Devon Feusahrens and Donna McKenzie (photo by Will Keyworth)
<![if !vml]>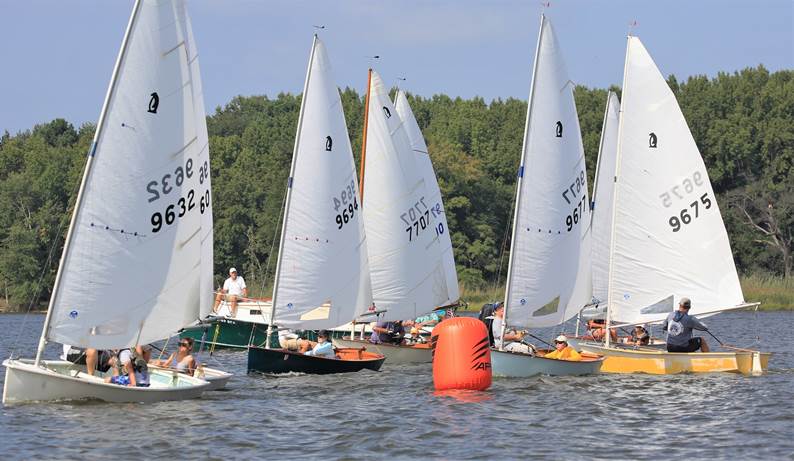 <![endif]>
And they're off to the races. (Photo by Will Keyworth)
<![if !vml]>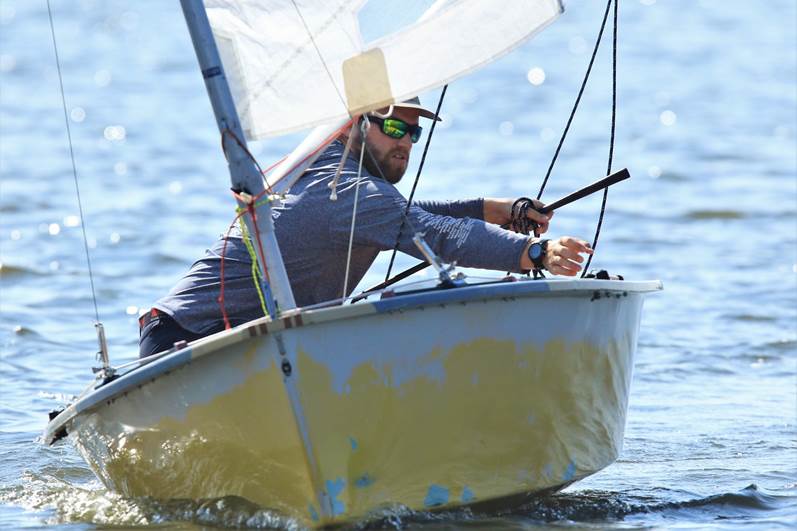 <![endif]>
RJ Bay, figuring out what the crew does on a Penguin – he sailed solo.  Photo by Will Keyworth.
<![if !vml]>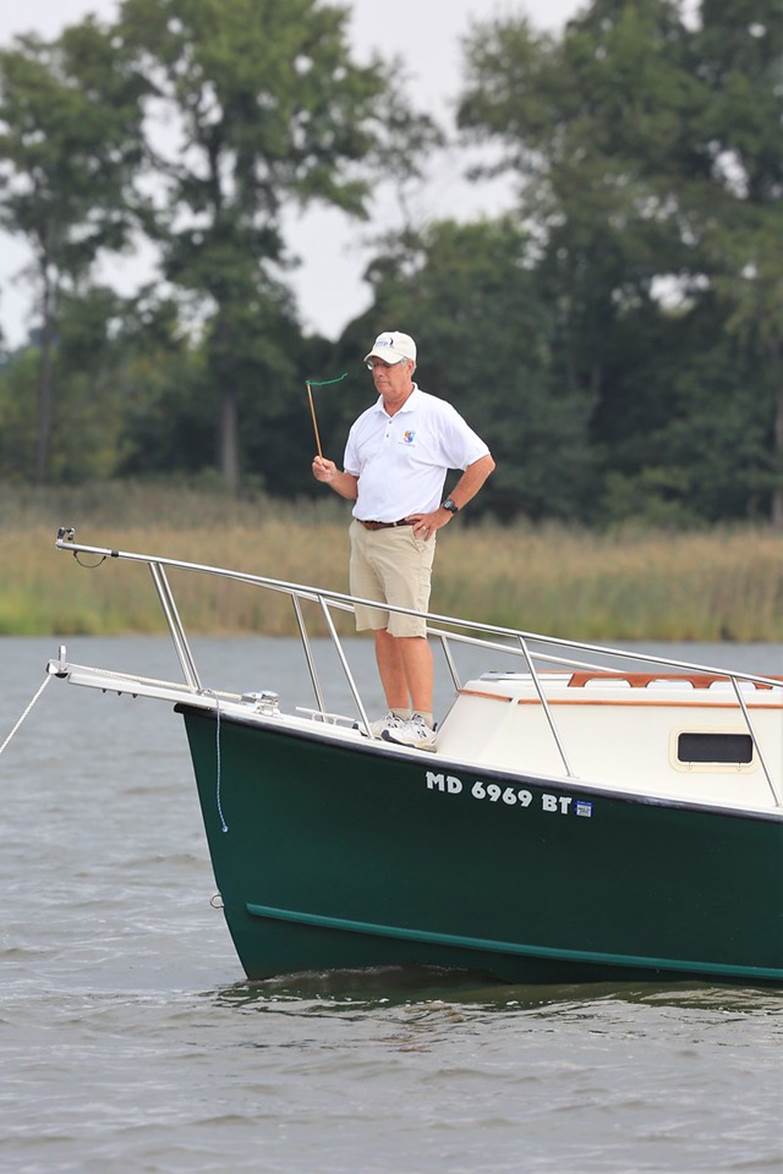 <![endif]>
Bill Lane on the bow of the committee boat, checking the wind direction. (Photo by Will Keyworth)
<![if !vml]>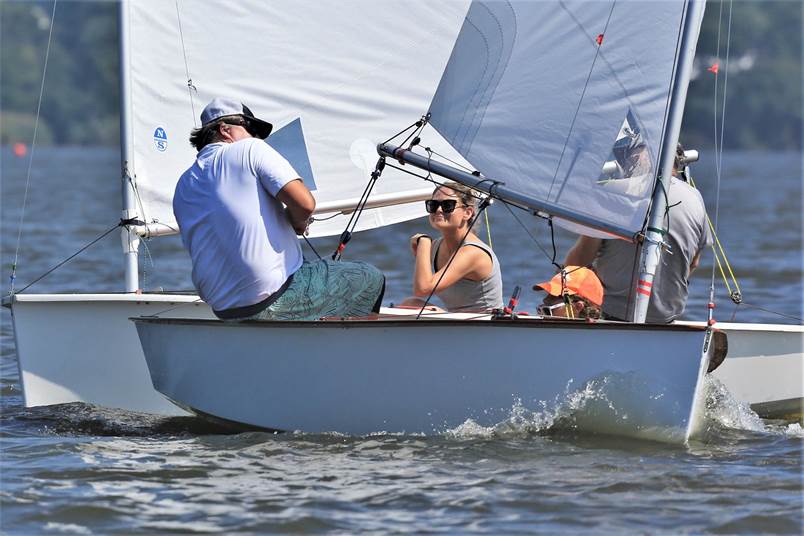 <![endif]>
Allans crossing just ahead of the Bartletts
<![if !vml]>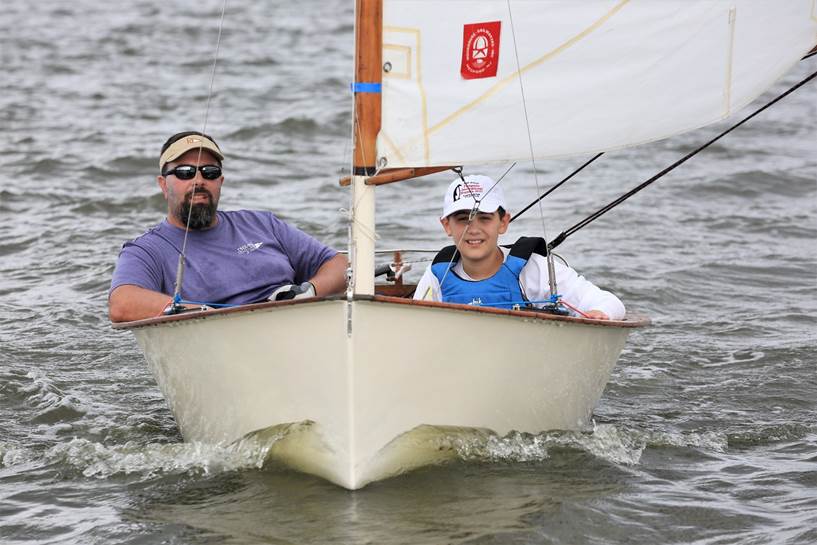 <![endif]>
The Lepperts sailing a classic Penguin with a classic Moorhouse sail.
<![if !vml]>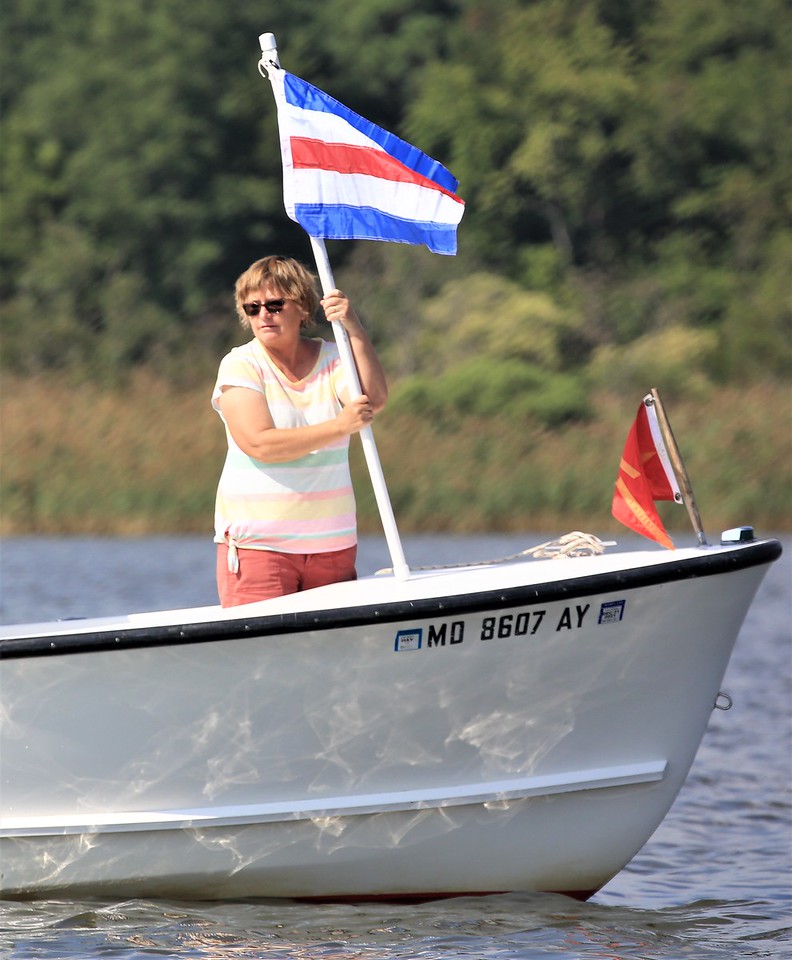 <![endif]>
CRYC Commodore and longtime Penguin sailor Gail Owings signaling a change of course (photo by Will Keyworth)
<![if !vml]>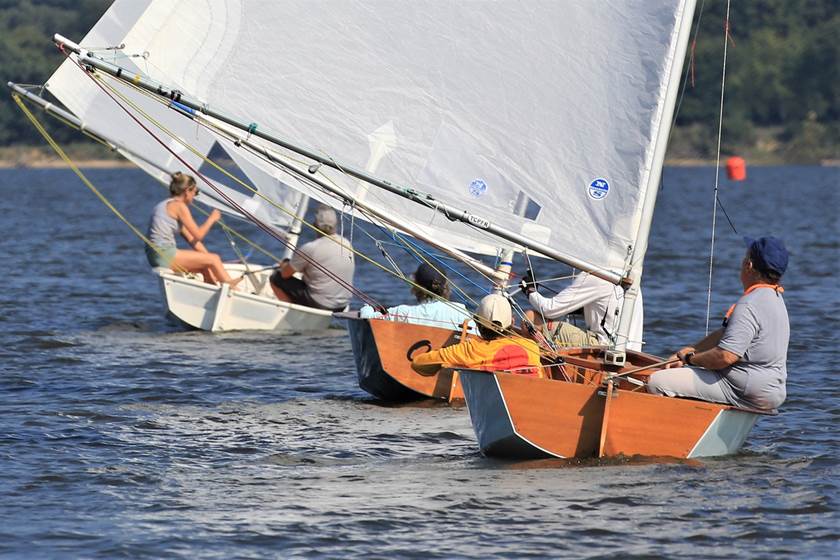 <![endif]>
A bit of downwind action.  Patience and stillness was the order of the day. (photo by Will Keyworth)
<![if !vml]>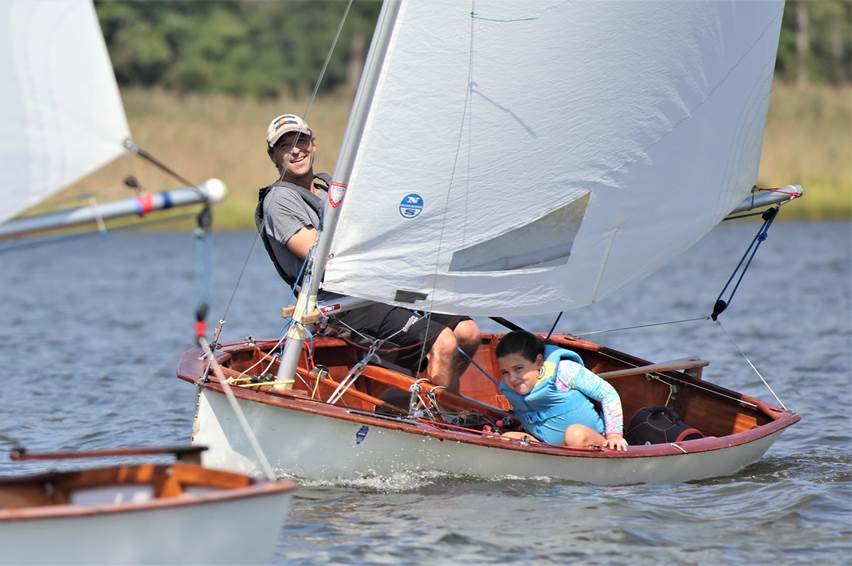 <![endif]>
Jeff and Ellie Cox enjoying their race on Saturday.  They had to leave early to catch a wedding. Photo by Will Keyworth.
<![if !vml]>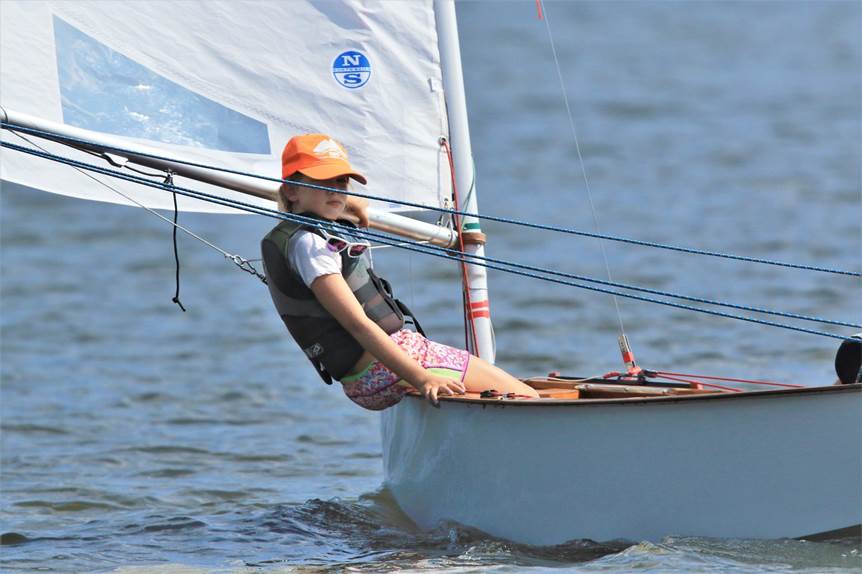 <![endif]>
Brooke Allan holding out the boom. The orange hat and sunglasses were hard not to miss.  (Photo by Will Keyworth)
<![if !vml]>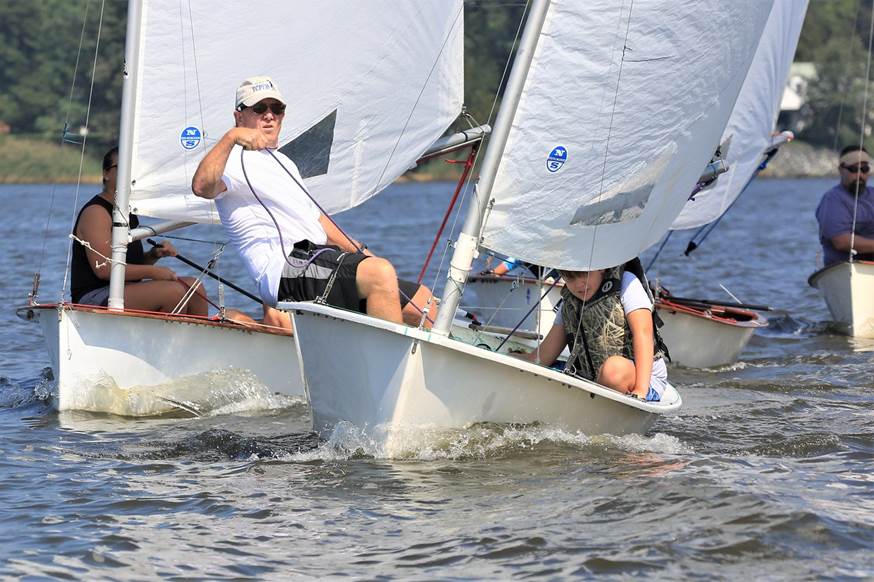 <![endif]>
Sandy McAllister with crew Ian Cox leading the white Penguins.  One might ask, why are there so many white Penguins?  Photo by Will Keyworth
<![if !vml]>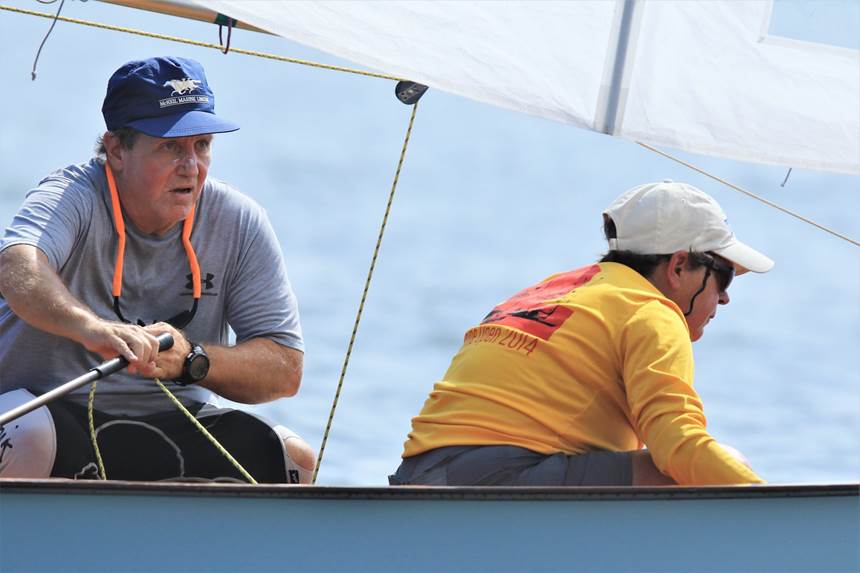 <![endif]>
Bill  Lawson and Collete Preis en route to their third Penguin Class  championship.
<![if !vml]>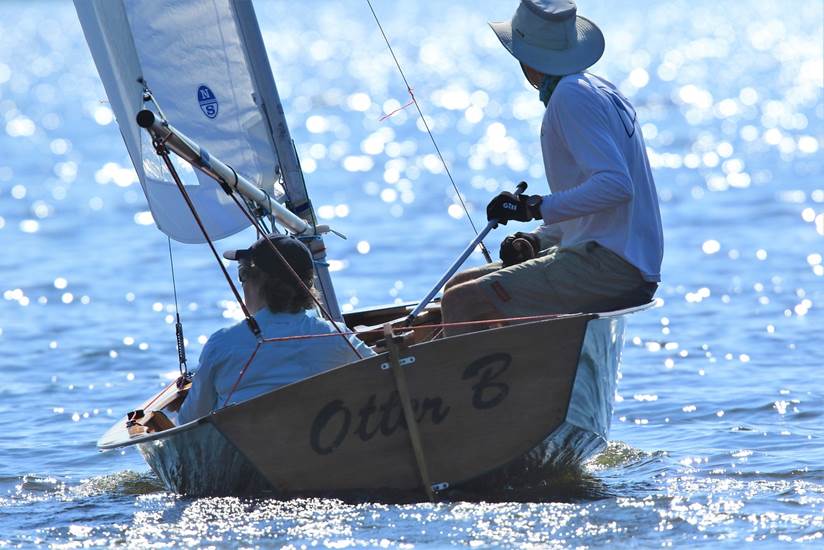 <![endif]>
Charlie and Cairn Krafft in 9694 (Photo by Will Keyworth)
<![if !vml]>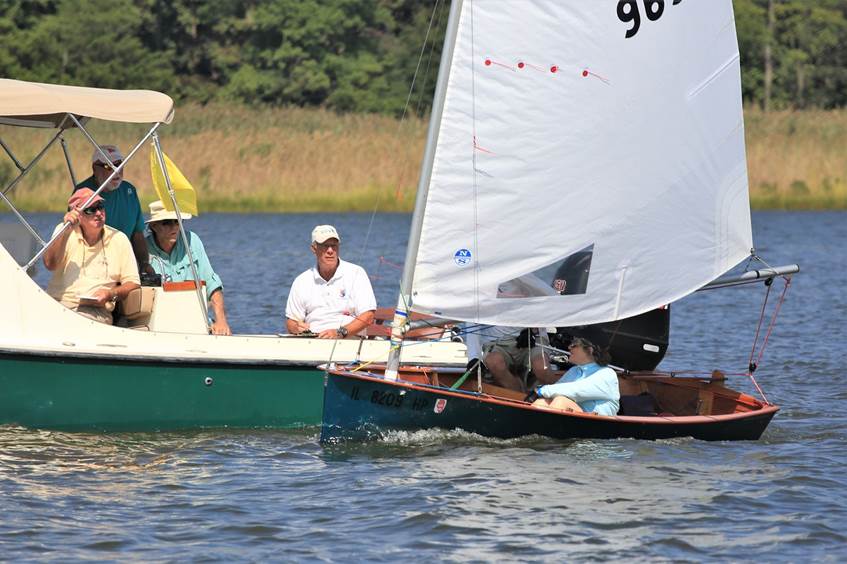 <![endif]>
Race Committee PRO John Foster with Art Silcox and Bill Lane plus __ on station recording finishes (Photo by Will Keyworth)